10 Ways to Use the Anywhere Trike 
When you think about how you could use an electric bike most people just think about bike trails or riding around town, but there are so many other ways in which you can use it. Whether you use it with your hobbies or going out with friends, there is going to be a use fit for you!
Electric trikes continue to become more and more popular all across the US, for all different ages. So, how could you use your Anywhere Trike? Keep reading to find out about 10 different ways you could use your electric trike. 

Bike Path
This might be one of the first ideas you think to take your electric bike when you get it, and it is a great choice! There are going to be numerous bike paths, and bike trails, no matter where you are located.
And with the fat tires on this trike it will give you a smooth ride no matter what terrain you end up riding on.
I would always make sure to check with your local regulations before you ride anywhere since these trikes have a very powerful motor.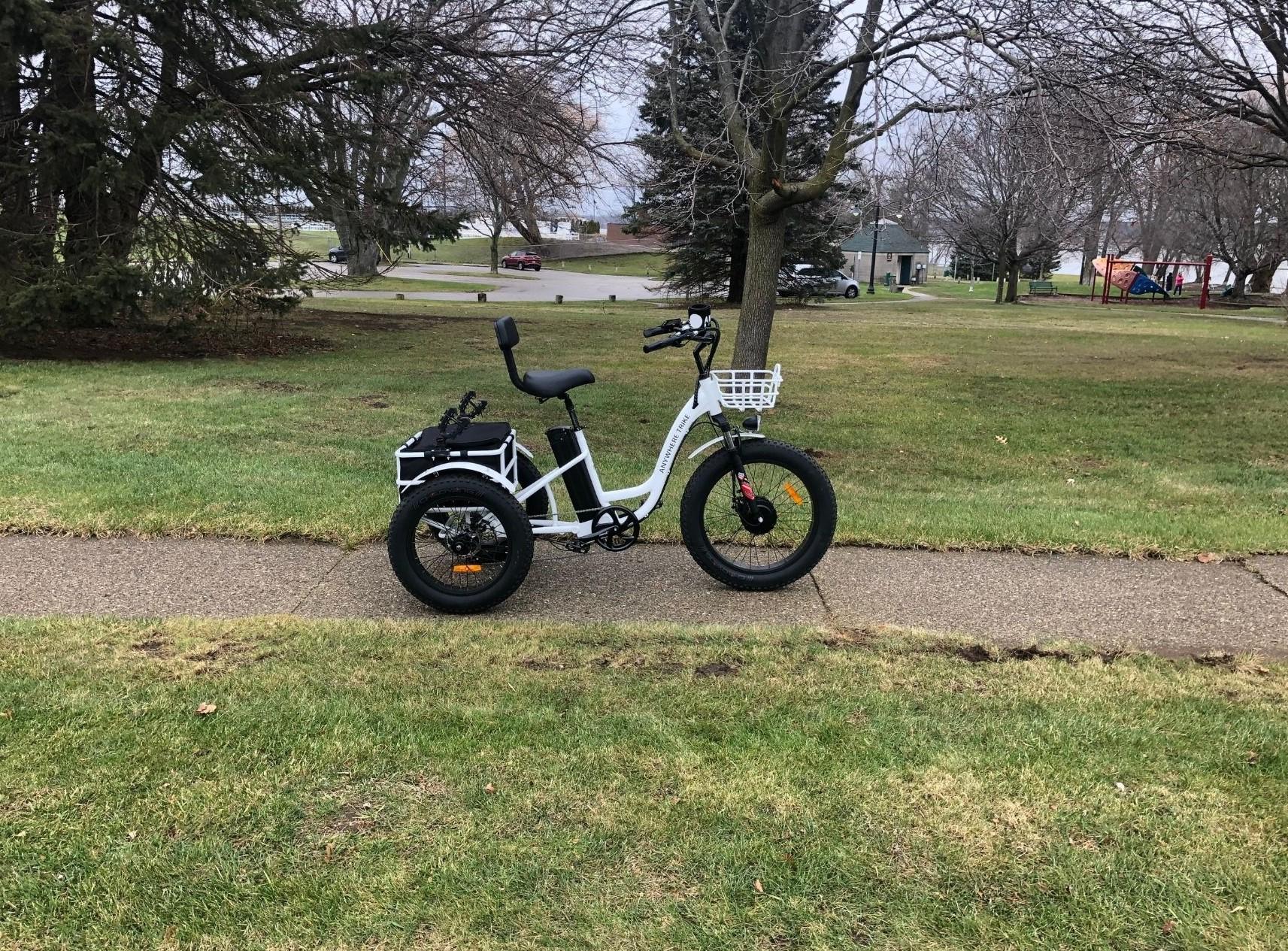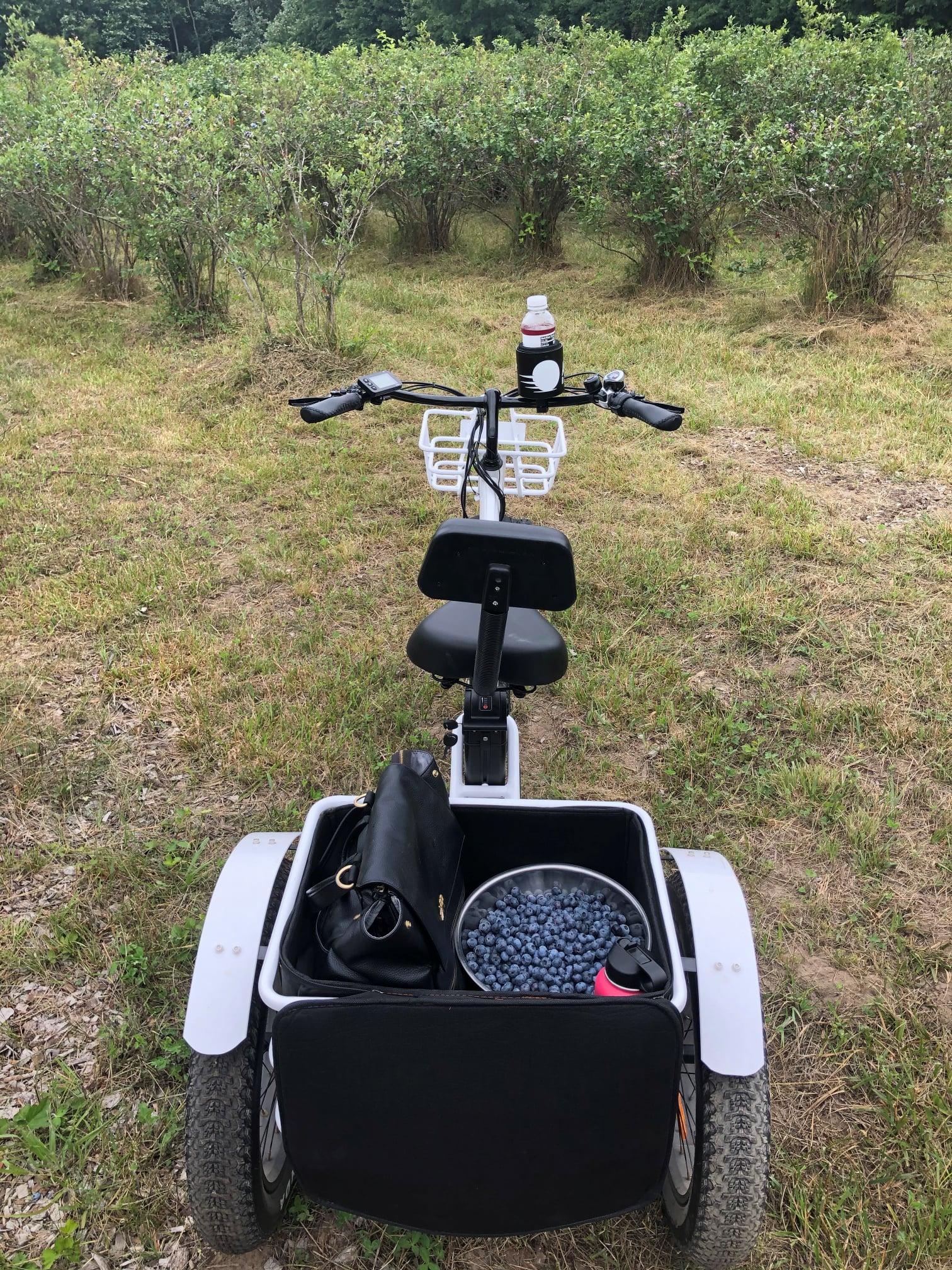 Berry Picking 
Have you ever gone berry picking? If so, you know how much fun it can be! But, sometimes it can be a lot of walking around, so why not choose a trike that will get you around the farm with ease and comfort?
From being able to ride around and grabbing whatever fruit looks good to you, this trike will make a trip to the berry farm even better.
You even have so much storage to hold whatever you end up picking. And, if you have our rear storage bag it can protect all your stuff, no matter what the weather ends up doing.
Hunting
The sturdy baskets and rugged design of these trikes make them a great addition to take with you hunting.
Check out this picture we received from one of our customers who made a contraption to get his bow on the front of his trike, how awesome is that? And the rear basket is great to hold any packs or gear you might need with you.
The fat tires will make for a smooth ride even in the woods. No matter what you like to hunt, this could add a new level of ease to all of your trips.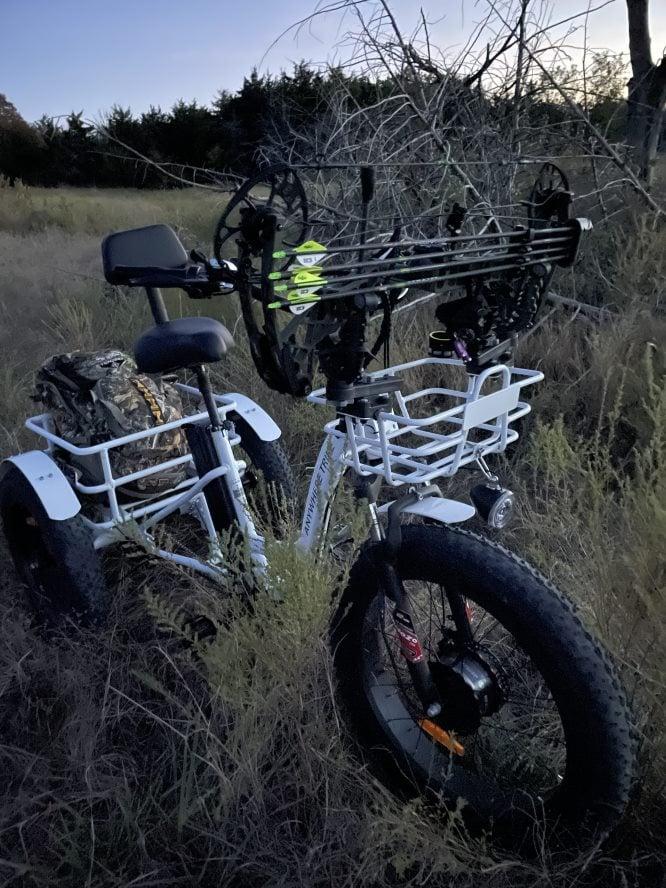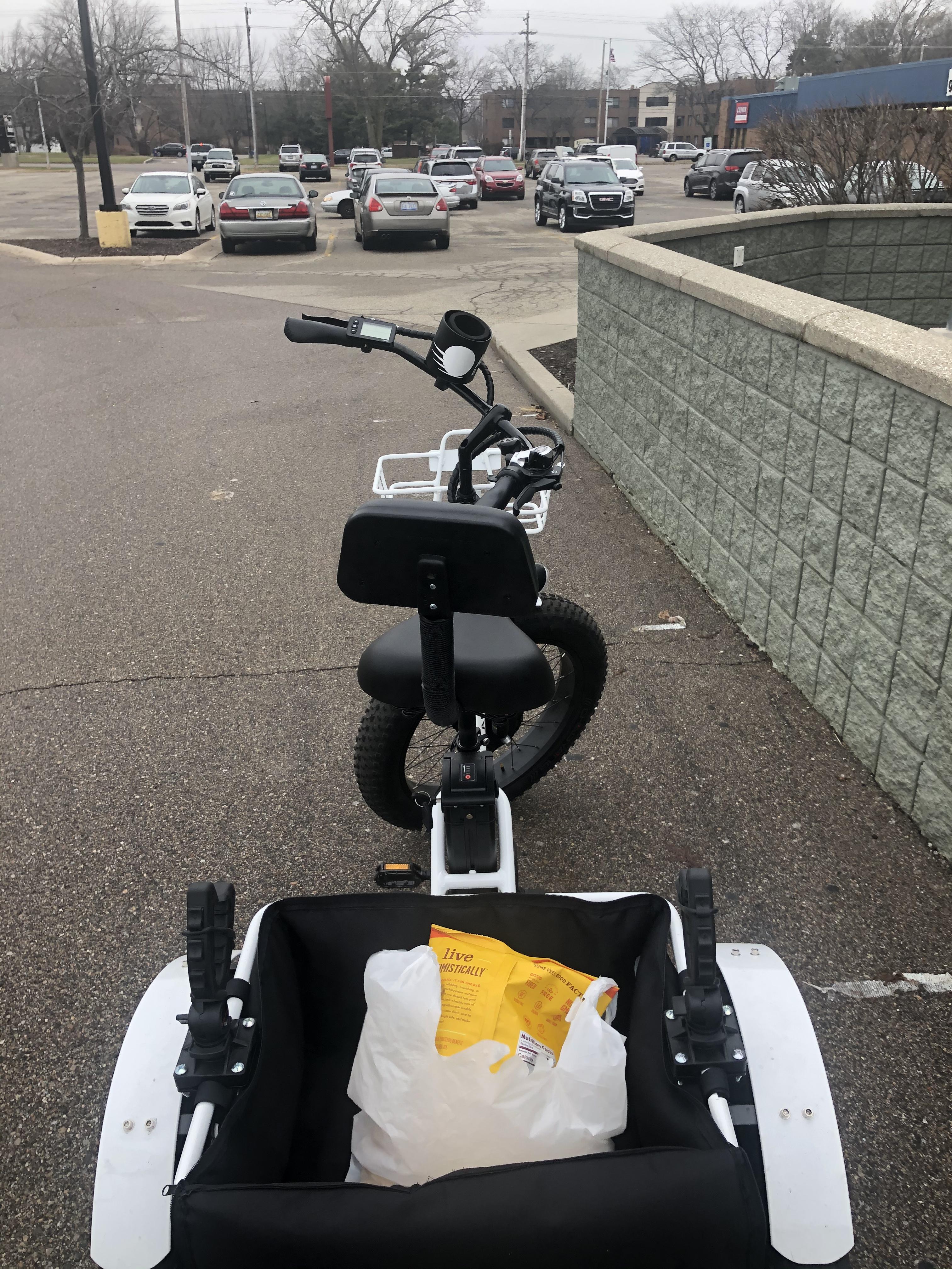 Groceries 
Everyone has to eat and since these trikes have two sturdy baskets, they are great for hauling anything you might need; especially groceries.
Whether you need to make a last-minute stop on your ride home to pick up food for dinner or you are going on your weekly grocery trip, there is plenty of room for whatever you may need to grab.
And, with the rear storage tote we have, it can stay protected from the weather, as well as make sure nothing falls out while you ride.
Brewery 
More breweries and pubs seem to be popping up all around. If you like to go out and drink the Anywhere Trike will get you there!
You can even get a kroozie cup holder to hold your drink while you hang out and talk with friends.
Make sure you do not drink and then ride your electric trike; you can still get a DUI for this.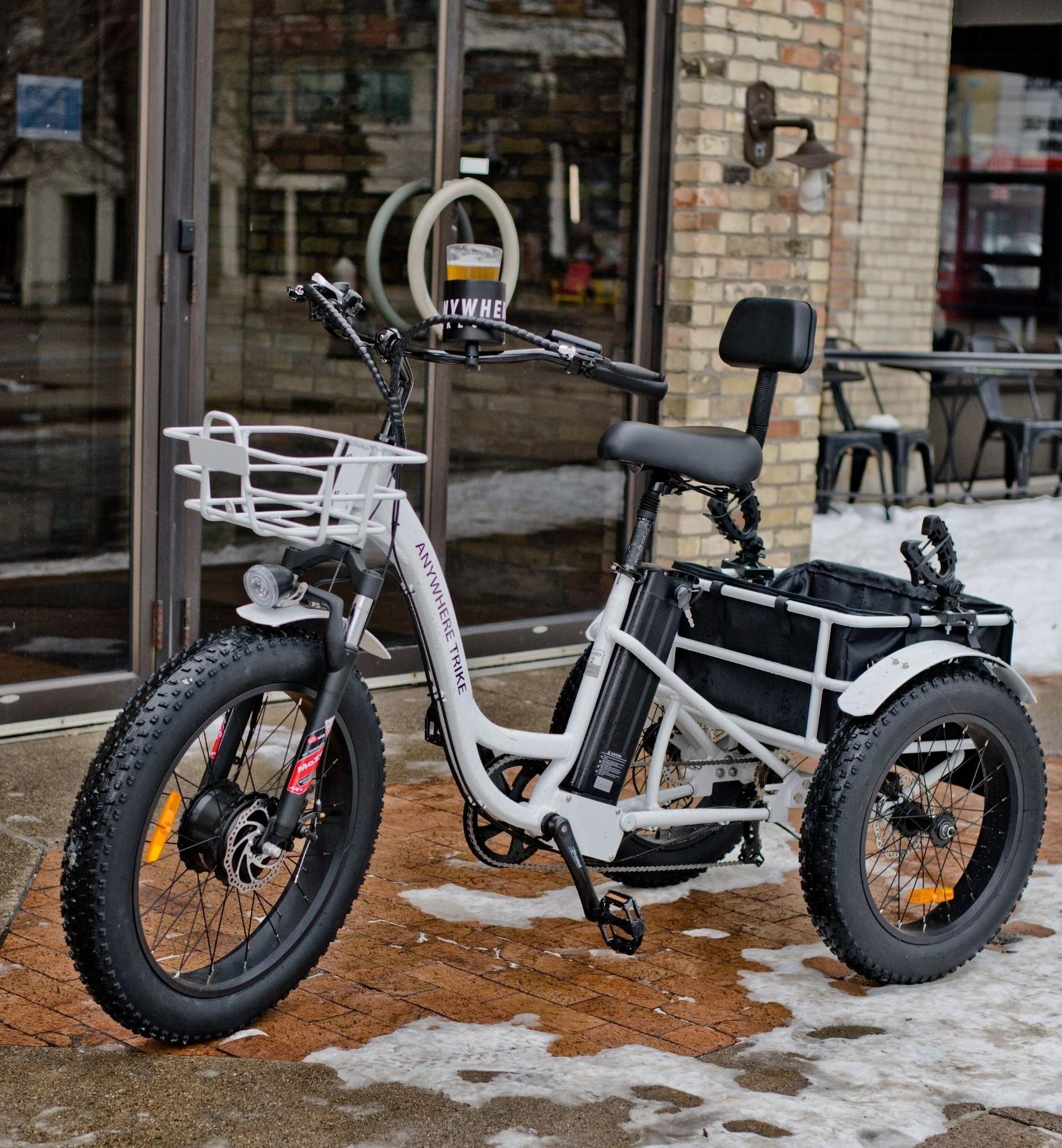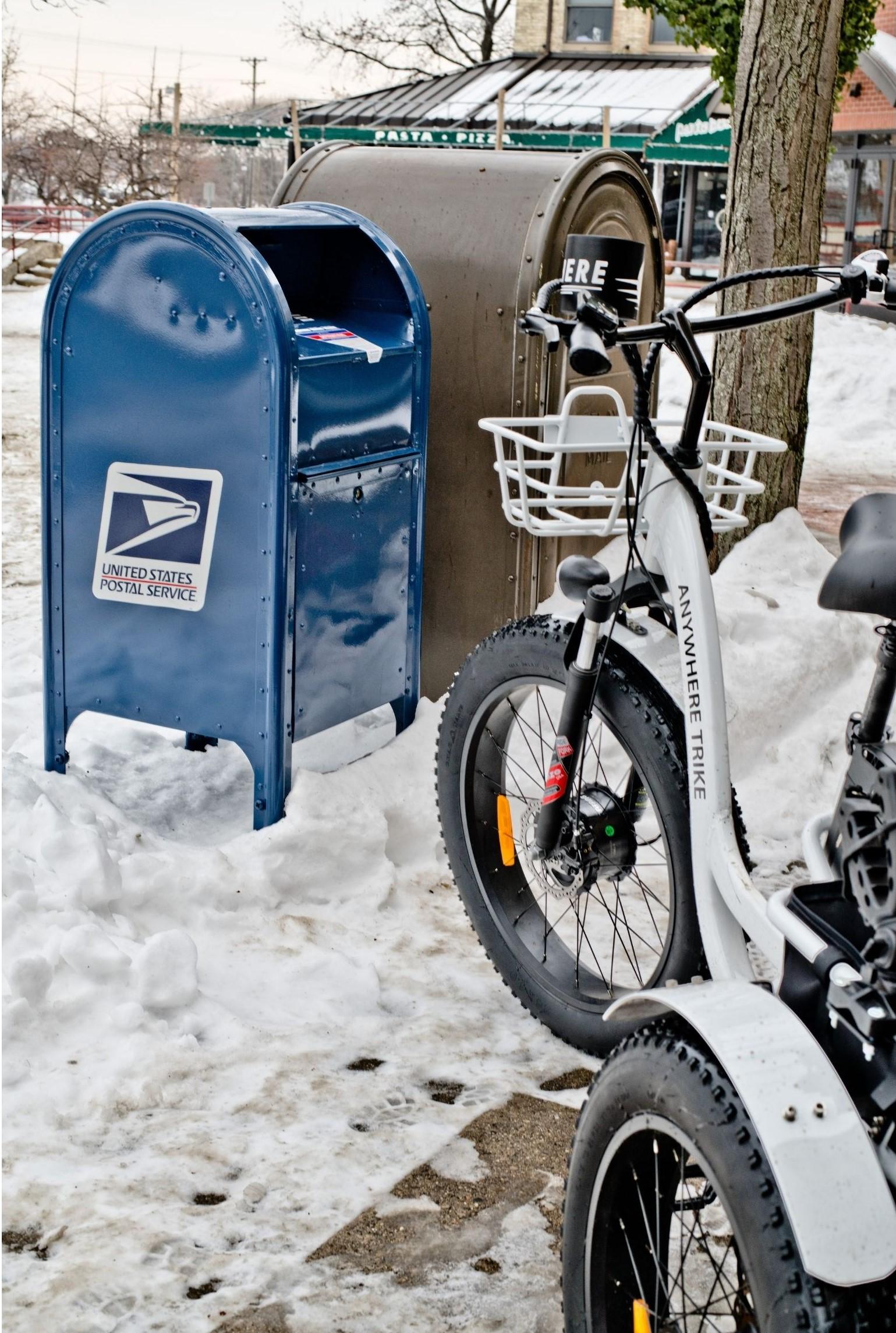 Mail
Do you have a long driveway and it takes a while to get down to your mailbox every day? Or maybe you don't have a mailbox at all and have to use the drop boxes around town.
Well, either way, this trike can help you get there. Even if there is snow everywhere, the fat tires will help you get to where you need to go easily.
No one ever wants to miss out on getting an important piece of mail.
Dog Park
If you have a dog that likes to go to the dog park, why not have your electric trike take both of you there?
Small dogs can fit perfectly in either one of the baskets and usually love to go for rides. 
Most dog parks are located somewhere that has lots of room to ride your electric trike as well. So, why not take advantage of your trip to the dog park and enjoy some extra time outside with your pup?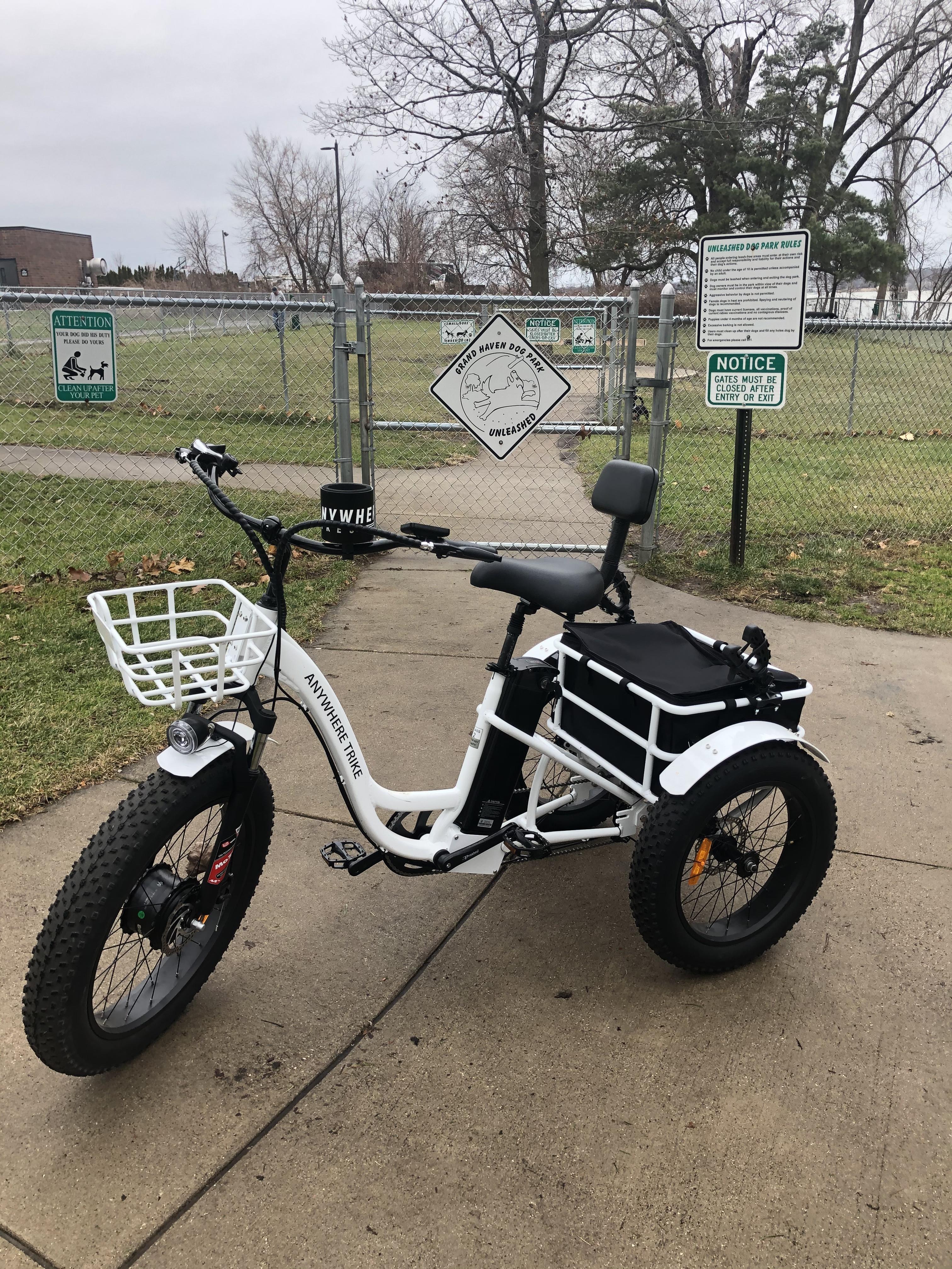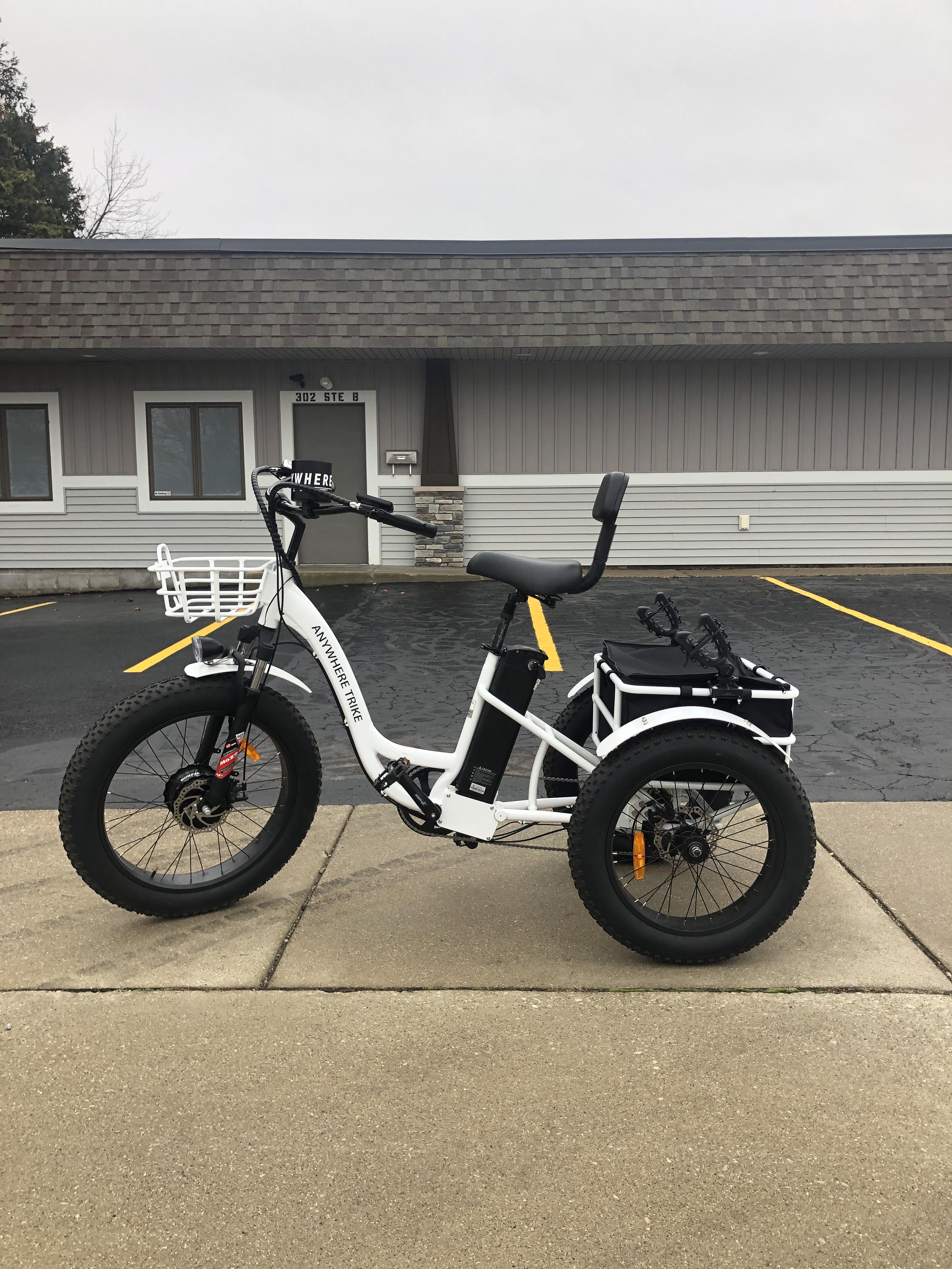 Work
Electric trikes are a great everyday commuter to get you wherever you might need to go.
Electric bikes have even been proven to reduce commuting time. How nice would it be to not have to sit in traffic every day when you just want to get back home?
The pedal-assist features on these can help you ride quickly and with little effort, even on those long rides. 
Using your electric trike to take you to work can be a great way for you to keep in shape as well as save money on gas, especially with the rising gas prices.
Lunch 
The Anywhere trike can be a great way to ride out and pick up a quick bite to eat. Check out this picture with lunch being stored in the rear storage basket while you can ride to wherever you need to go!
You could also use your electric trike to take you to a nice restaurant while you sit and eat with friends or family. And then, on the way back home, you can use your electric trike to burn off a couple of the calories that you just ate. 
Or just put the trike in full throttle mode and it will do all the work for you!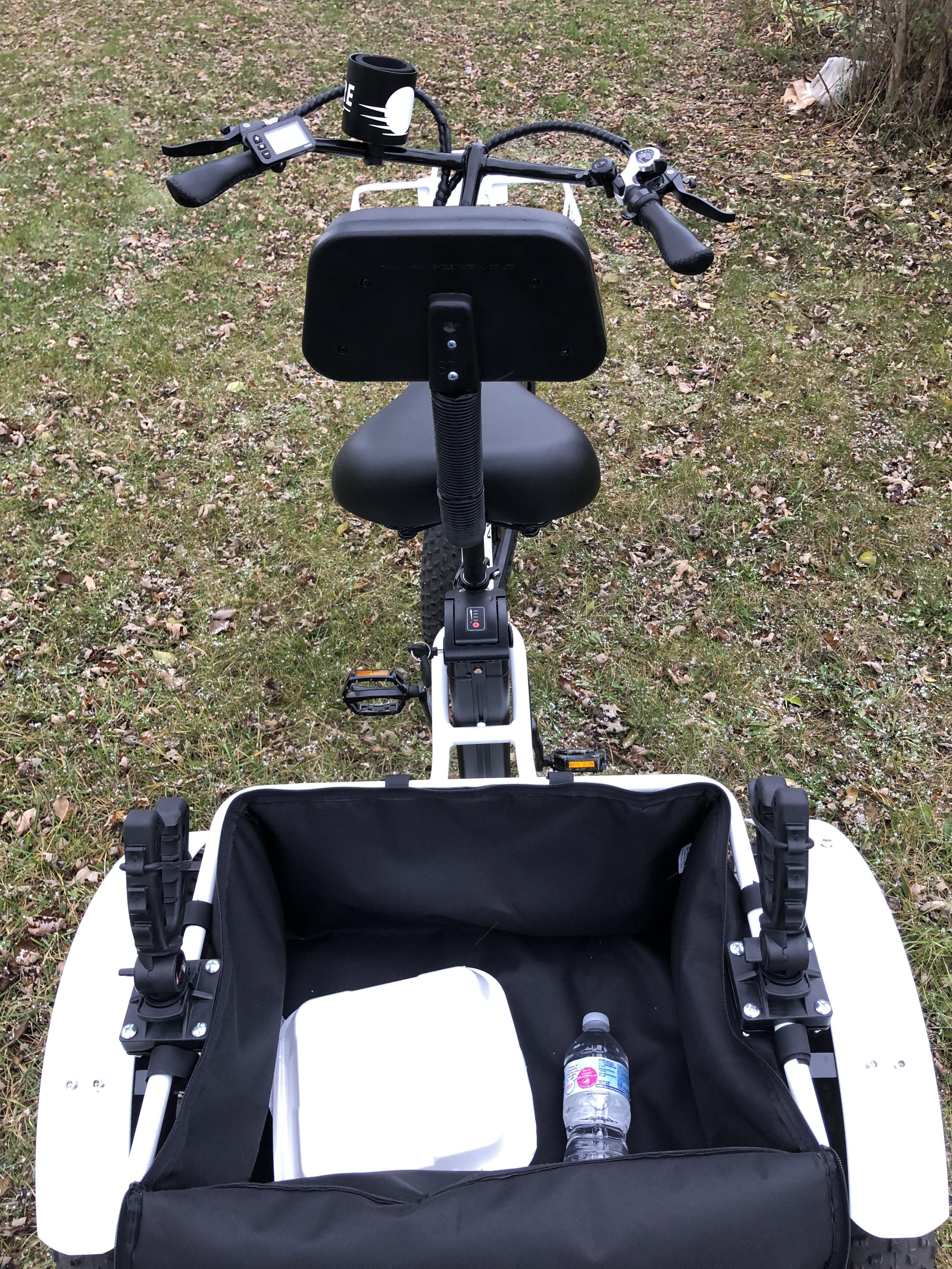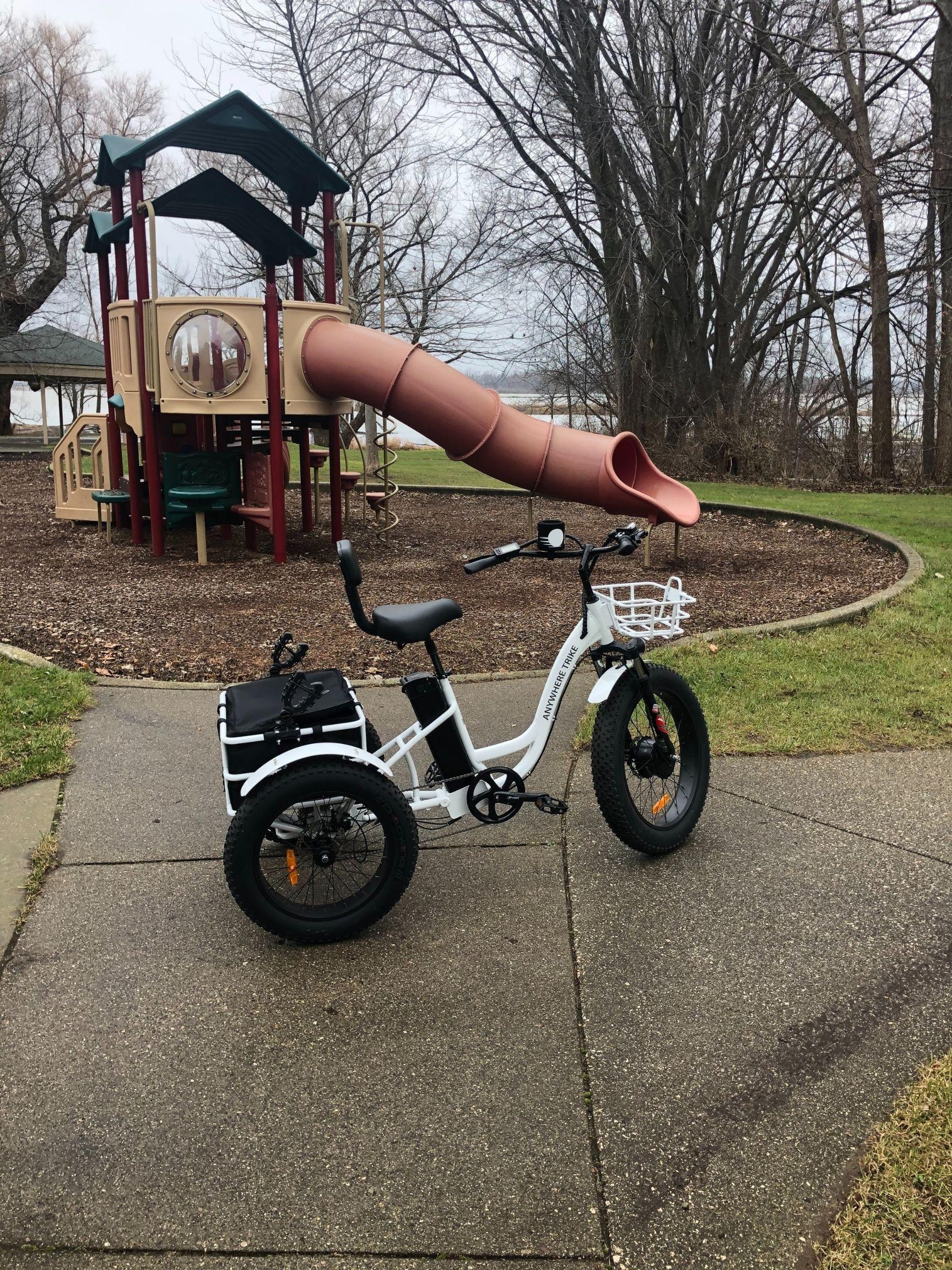 Park
Now, it may not be that fun for you to go and play at the park, but maybe you have grandkids that love to go. This can be a great way to spend more time with them, and get outside at the same time!
You can also use the park as a good way to just ride around since most parks have lots of land and area to ride. 
Whatever it is you choose to do, the Anywhere Trike is made for you.
It wasn't named the Anywhere Trike for no reason… it will get you anywhere you want to go, and back home. 
In the comments below, let us know how you like to use your Anywhere Trike (or how you would like to see us use it).
Happy riding!