Basics on How to Use an Electric Bike
Electric bikes have become a new and exciting way to get around town, run errands, and spend time with friends and family. They are game-changers in the biking industry because of their versatility and ease of use. But how do they work? That's what this blog is here to teach you. We will go over the basics of how they work so you can get a better understanding of what getting an electric bike would require.
Sections this blog will cover:
Before you Ride
Getting On and Off
Using the Motor and Battery
Taking Care of Your Electric Bike
Conclusion
Before Your First Ride
One of the first things you should do when you get an electric bike is read through your owner's manual. This should be filled with lots of pertinent information about your specific bike model and how to use its features.
If you had to assemble your bike, you have likely already checked these components. But you do want to make sure you are all set before you ride. You should check that the tire pressure is correct. Your owner's manual should include what PSI your tires should be at. If you are unsure, it is best to contact the company to find out.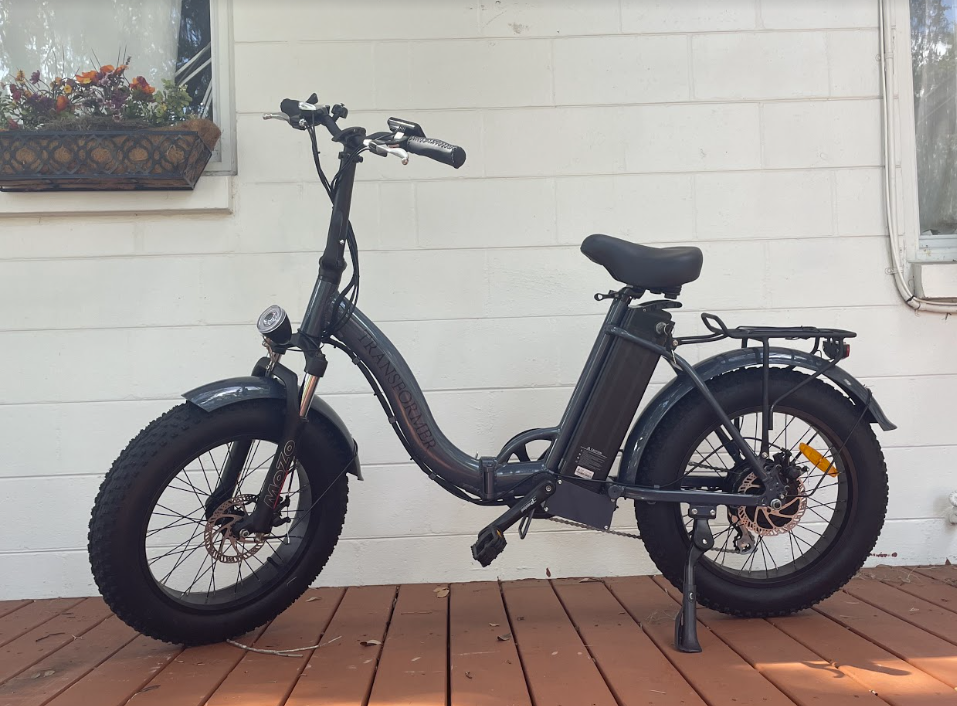 You will also want to make sure your handlebars are tightened down fully and will not move out of place while you are riding.
Once your battery is fully charged and back in the bike you will want to test that your LCD controller is turning on properly, as well as being able to turn your headlights on and off.
The picture to the left shows a fat tire folding bike. You can see the LCD controller is on the left handlebar.
If your electric bike has disk brakes you will need to do a bed-in procedure before you begin your first ride. This is just a way to break in your new brakes so they have something to grip onto when stopping.
Your brake bed in procedure should go something like this:
Find a safe riding area that will allow for moderate speed. Remain seated during the entire procedure for optimal results.
Important Note: Do not lock up the wheels at any point during the bed-in procedure.
Accelerate the bike to a moderate speed, then firmly squeeze the brake levers until you are at walking speed.
Repeat this process about twenty times.
Accelerate the bike to a faster speed, then firmly squeeze the brake levers until you are at walking speed. Repeat this process about ten times.
Allow the brakes to cool down before your first ride.
Getting On and Off
Now, getting on and off of an electric bike may seem simple, but there are a couple of things you want to remember when using an electric bike. Before you start your ride, you should always wear a helmet. Electric bikes can go very quick so you want to make sure you are protecting yourself in case of an accident.
For easy on and off you may want to look for an electric bike with a low step-through design. This will make the actual motion of getting on and off your bike much easier. The bike on the right has a step-over height of 18.5".
The first thing you will want to do when you are getting on your bike is making sure the motor is off, or at pedal assist level zero. If you have the bike in pedal assist level zero while you are getting on, it won't be able to engage the motor.
The next thing you want to do is make sure that you are on level ground. Even if you have a kickstand down it could move as you get on so it is always best to start out on a flat area so your bike won't roll out from under you. This is especially true for 3-wheeled bikes. They typically will not have any kind of kickstand at all.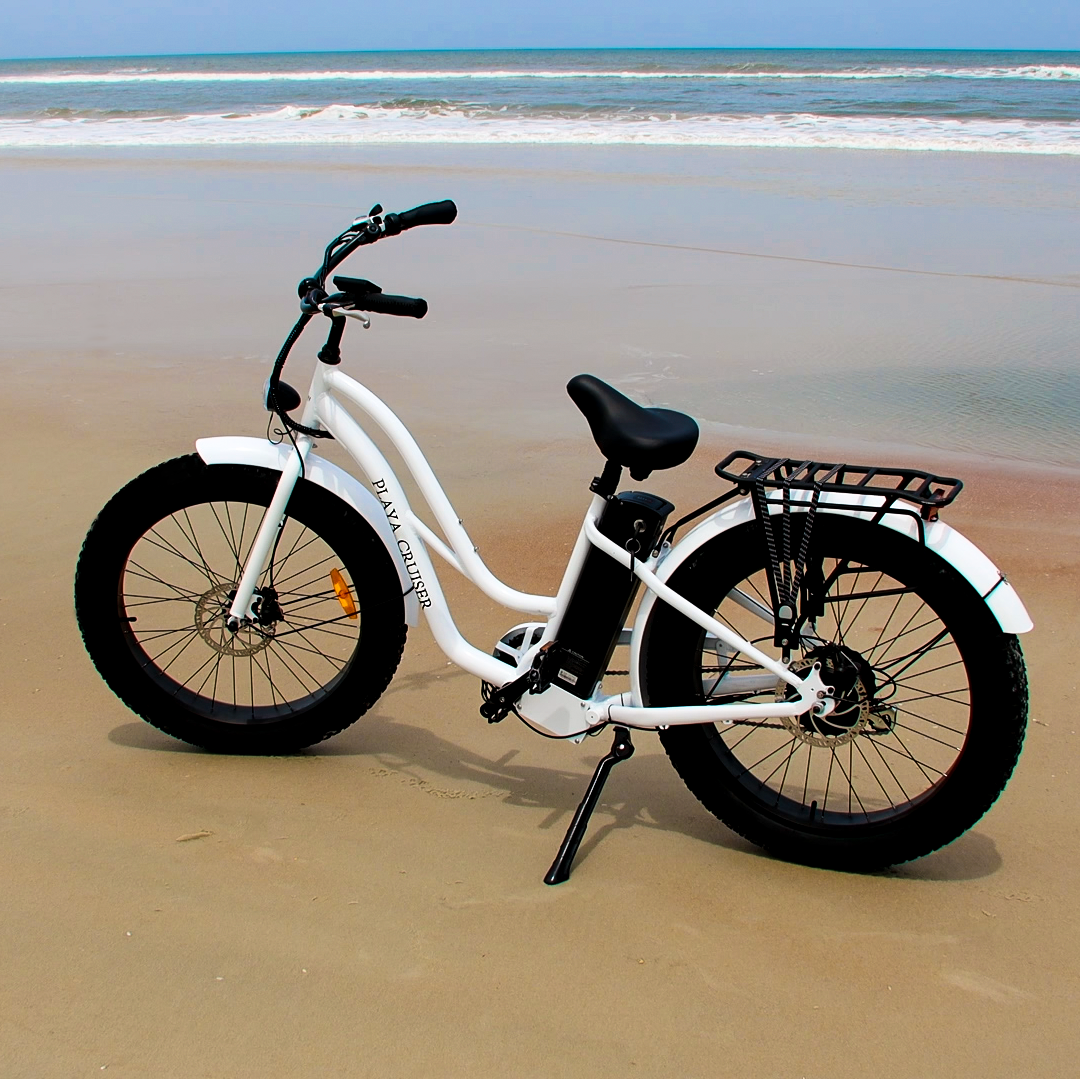 You can also hold the brake down as you are getting onto the bike.
Once you are on your bike you want to make sure it fits properly and you are sitting in the correct position. You should be able to move your seat up and down to better match your height. It is best if the balls of your feet are touching the ground, almost like you are on your tippy-toes. Some people are more comfortable if they can get their whole foot on the ground while seated, and that works too, as long as you feel safe.
When getting off your electric bike you will want to do the same things.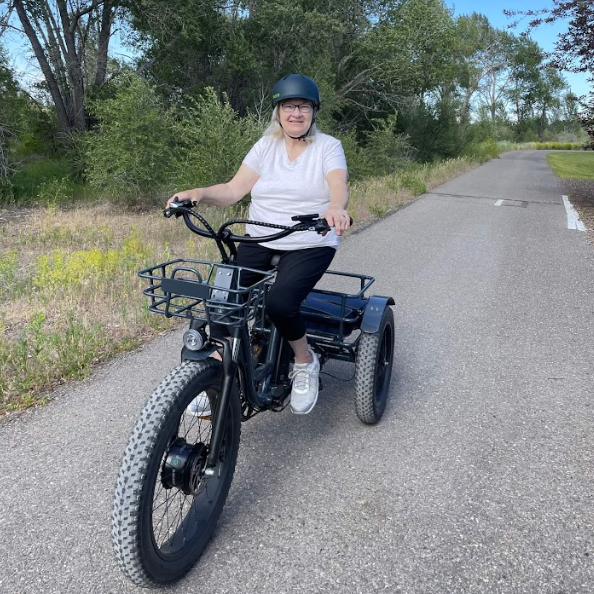 Using the Motor and Battery
With an electric bike, the motor will typically be in the front or rear wheel and the battery is usually under the seat or on the frame, under the handlebars.
The picture on the left shows a fat tire electric trike that has the motor in the front wheel, a battery under the seat, and an LCD controller on the left side of the handlebar.
Using your motor and battery on your electric bike is quite simple. You can use your LCD controller on the handlebar to change pedal assist levels, and to check battery life, speed and distance traveled.
Your battery should also be easily removable for charging, or you can charge it directly on your bike. Most lithium-ion electric bike batteries will take 4-6 hours to reach a full charge.
Once you are seated on your bike and ready to ride you have 3 different options on how you can ride.
You don't have to use the motor or battery and can ride it just like a normal bike with no power. This is also good to know in case your battery dies while you are out on a ride and you can just pedal back home like normal!




You can use pedal-assist mode. Most electric bikes will have 5 levels to this. With pedal assist, you set the level you want to be in and when you pedal it will kick on the motor. The level you choose determines how much assistance you will receive from the motor.




The last way you can choose to ride is full throttle. Most electric bikes will use a thumb throttle. This means all you have to do is push your thumb down on the throttle and let the bike do all the work for you. This is especially useful if you have been out on a long ride and can't pedal back home anymore.
Taking Care of Your Electric Bike
We mentioned in the beginning of this article things you should do before your first ride but there are a number of things you want to make sure you do so your electric bike will stay in great shape.
Storing
Storing your electric bike and battery is so important in maintaining quality. If you have an inside area such as a garage, that would be ideal for storing. If you are storing your electric bike outside it is best to get some type of cover to protect it from the elements.
Your electric bike battery should be stored at normal room temperatures, 40-80 degrees Fahrenheit. It should be kept in a well-ventilated, dry area, and is best to store the battery away from heat sources, water, and direct sunlight.
Folding bikes are a good option for someone who doesn't have a lot of storage space, but want to keep their bike inside. The image to the right shows a fat tire folding bike folded up.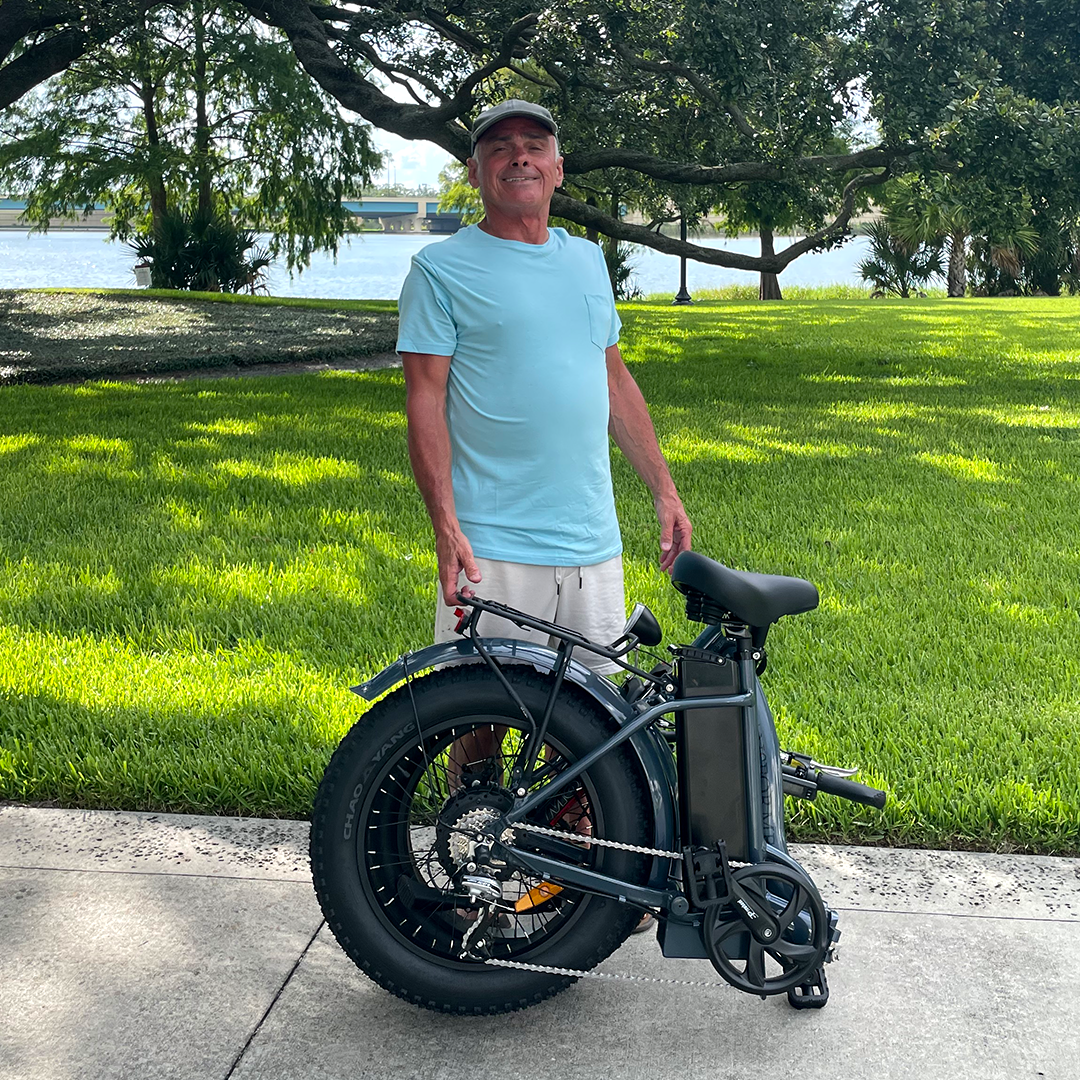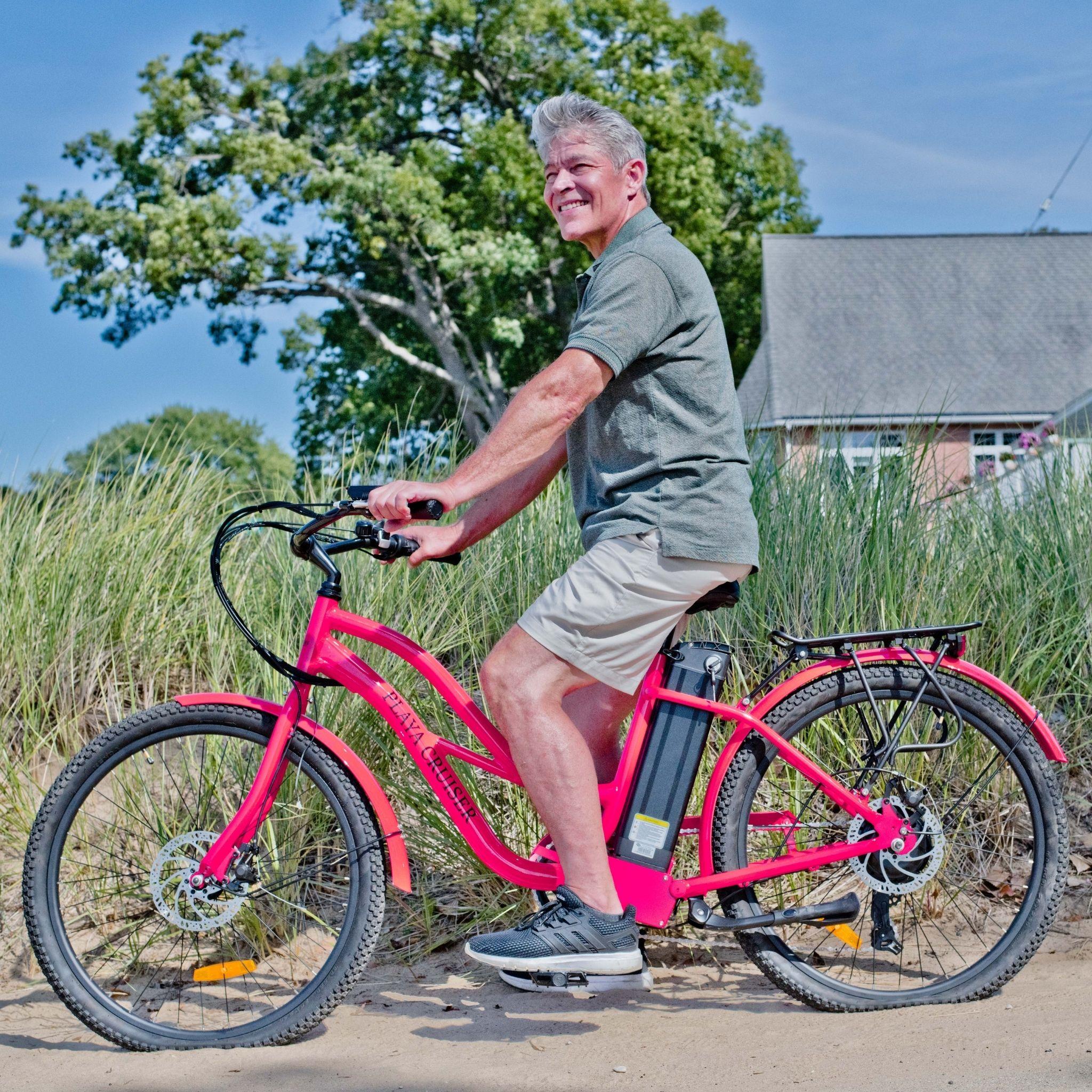 Maintenance
It might be a good idea to set up a regular maintenance schedule for your electric bike. This way, you can keep track of what you have done and when. You can either do this yourself or take it to a bike shop to have it done.
You will want to make sure your tires are properly inflated. Making sure your tires are at the correct PSI can make a big difference when you are riding. It is also important to understand that riding on different terrains may require different tire pressure. For example, when riding on soft sand you will typically need to let some of the air out of your tires for a smoother ride.
Since electric bikes are both heavy and fast, you want to make sure you have adequate stopping power, and regularly checking your brakes will help with that. It is best to check your brakes for excessive rotor and pad wear and replace them when needed. You should also adjust your brakes as needed. If you do not feel comfortable doing that, then you could have your local bike sh
You should also clean and lubricate your chain regularly. To prevent grit and grime from building up on the surface of the chain, you should keep the lube inside the chain. It usually involves wiping off the chain with a rag to remove old oil and dirt, and applying fresh lube sparingly. Wipe off as much excess lube as possible to prevent grit from accumulating.
Conclusion
As you can see, there are a lot of great features of electric bikes that can be helpful for any rider. If you are considering an electric bike it is important you take care of the upkeep that comes along with it so you can ride it safely.
If you are looking to purchase an electric bike we recommend the Anywhere Bike - Playa Cruiser.
And if you are looking to purchase an electric trike we recommend the Anywhere Trike - Rugged Edition.
Let us know if you have any questions in the comments below.