The Most Frequently Asked Questions About E-Bikes
If you are considering purchasing an e-bike you probably have questions about how it works and what all it can do. In this blog we are going to break down some of the top asked questions that new e-bike riders have before they make the purchase.
Note: Some questions will have specific numbers that are going to be accurate for Anywhere Bikes models. These may not be the exact figures if you are looking at other company's bike, but they will be similar.
Can I still pedal?
Yes! E-bikes still have pedals and they aren't just there as a place to rest your feet. E-bikes can always be used like a normal bike without any power added. This can be especially useful to know in case your battery does die while you are out riding.
The other way you can use your pedals on an e-bike with pedal-assist mode. Typically, most e-bikes will have 5 levels of pedal-assist. Pedal-assist is a way that you can work with the bike. As you pedal, the motor will kick in to help give you an extra push. Starting with level 1, and making your way through each level will slowly add more resistance as you pedal. This is a great way to get exercise without putting all kinds of strain on your joints.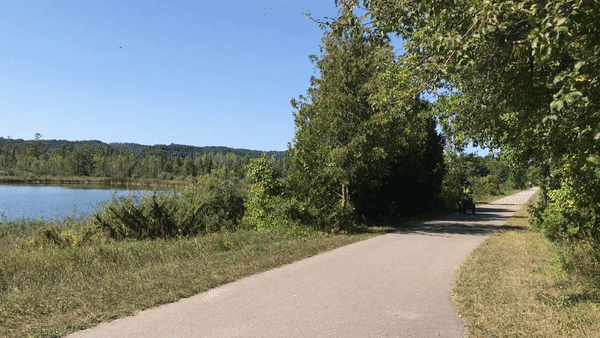 Do I need a drivers license?
The simple answer to this question is no. You do not need any kind of drivers license to ride an e-bike. E-bikes have many of the same rules that a bike with no power would have. You also do not have to get it registered, insured, or get a title unless you would just like to. This pertains to riding e-bikes in the United States. If you are not in the United States and are thinking about purchasing an e-bike it may be a good idea to check the regulations for your area.
Where can I ride an e-bike?
One of the first things you should check is what class of e-bike you have. This determines where you can ride certain e-bikes in the United States. (all Anywhere Bikes e-bikes are class 2)
Typically, e-bikes will be ridden anywhere that normal bicycles are rode. This means riding in the street, and not on the sidewalks for most places!
Before you go out and ride you should check your local regulations as they do vary from state to state.
Check out this rider who rode her e-trike by the Eastern Continental Divide.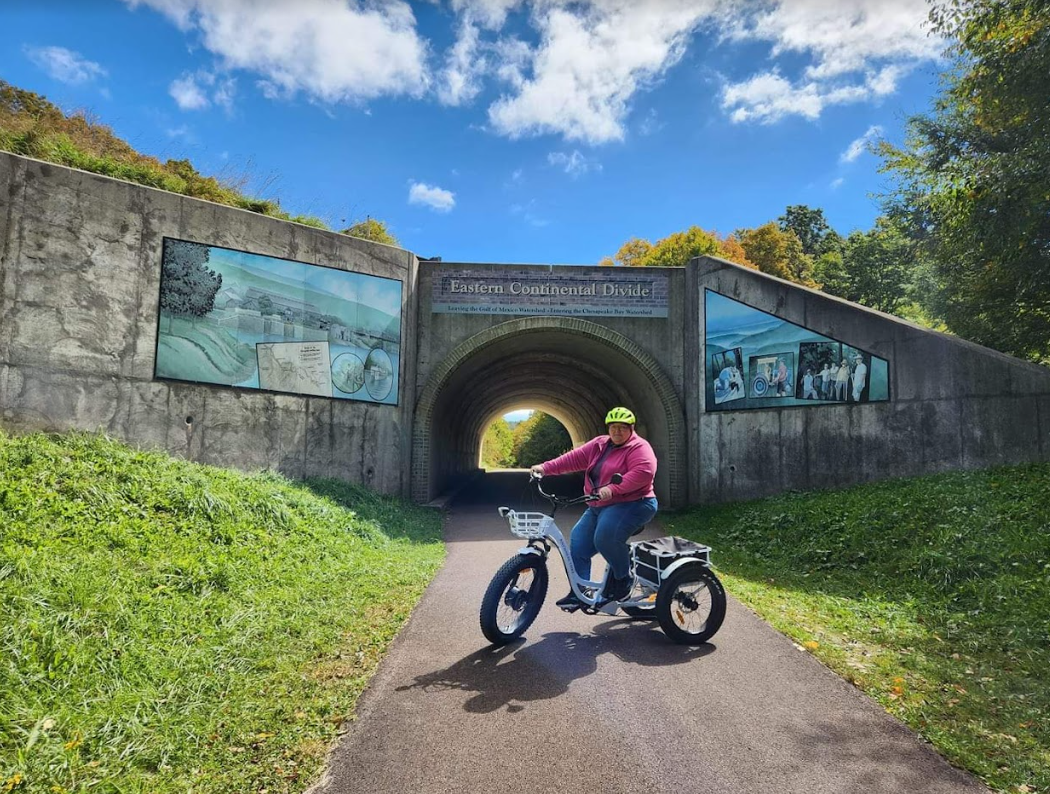 How far can I go on a full charge?
The typical range for an e-bike battery is going to be around 30 miles. Now, it is important to remember that the range number is estimated for if you are only using full throttle. If you ride in pedal-assist mode you will be able to get a much higher range out of your battery. Some people have even been able to get upwards of 70 miles out of one charge on their battery! That is a lot of riding.
How do I charge the battery?
E-bikes use rechargeable lithium-ion batteries. The battery is typically positioned underneath the seat, or somewhere along the frame. These batteries are made so that they are easily removable for charging. Often, they will even have a handle for carrying options.
When you receive your e-bike it should come with a charger that will plug into your standard wall outlet. So, as long as you have the charger and the battery you can charge it wherever you need.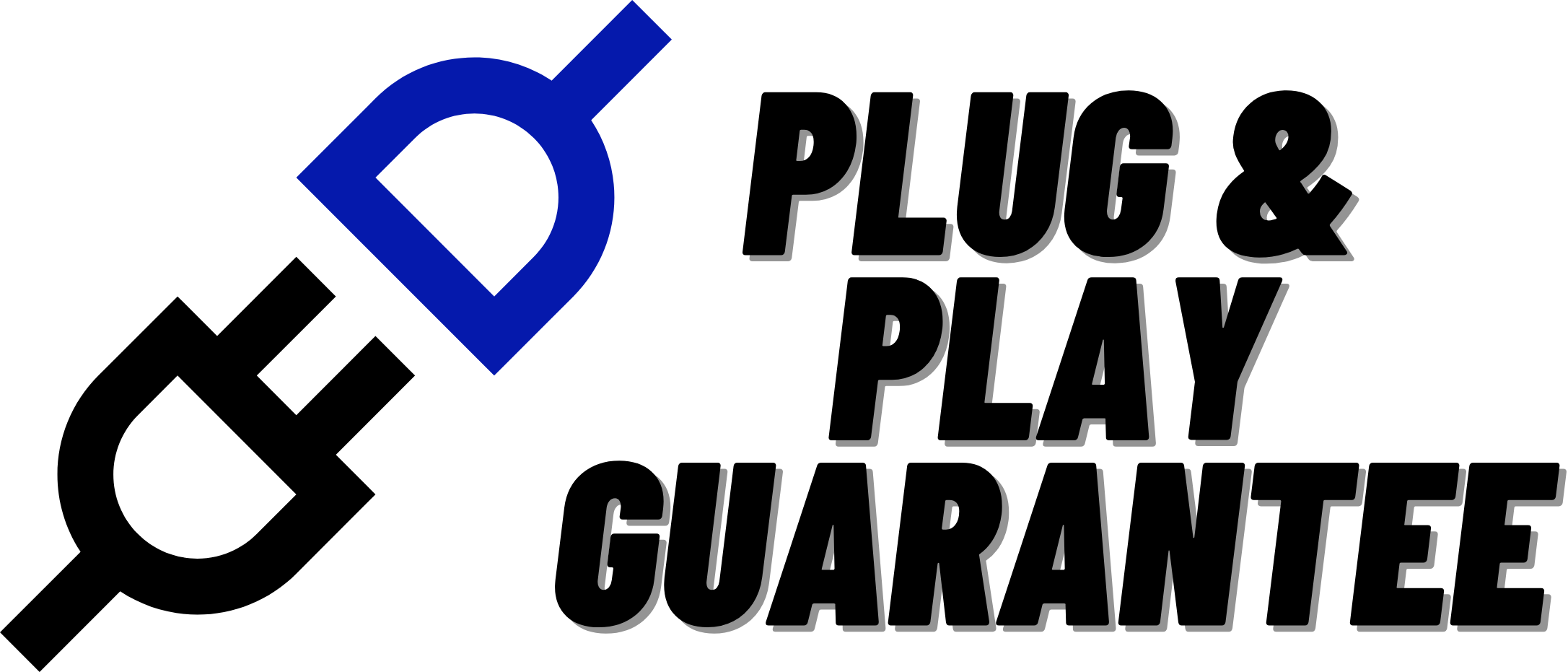 In recent years, solar-panel chargers have also become an option for e-bikes. If you would like to check out an e-bike solar-panel charger you can click here.
How fast can I go?
All of our Anywhere Bikes are rated to have a top speed of 14.5mph. This top speed is only if you are using full throttle only. If you use pedal assist mode while you are riding you will be able to go even faster. Typically, you can get around 20mph, or a little higher, which can feel very fast on a bike.
If you are going downhill, you will be able to gain even more speed at an even quicker rate. While going super fast can be fun, it is also important you give yourself plenty of time to slow down. E-bikes are heavy machines that can take longer to stop than it would on a manual bike.
How can I transport it?
There are a number of different ways you can transport an e-bike. You can use a normal bike rack, as long as the weight requirements are met and you are not overloading the rack. They have also started to make e-trike racks that are even larger. For most e-trikes, you may need something larger, or perhaps you have e-bikes and a rack won't work.
Well, there are a few more options for you. Looking into cargo carriers, or electric scooter carriers can be a great way to go. Those have much more surface area and are made to hold a lot of weight.
You can also use the bed of a truck to transport many e-bikes or trikes at once. And the final option is to pull a small trailer behind your vehicle.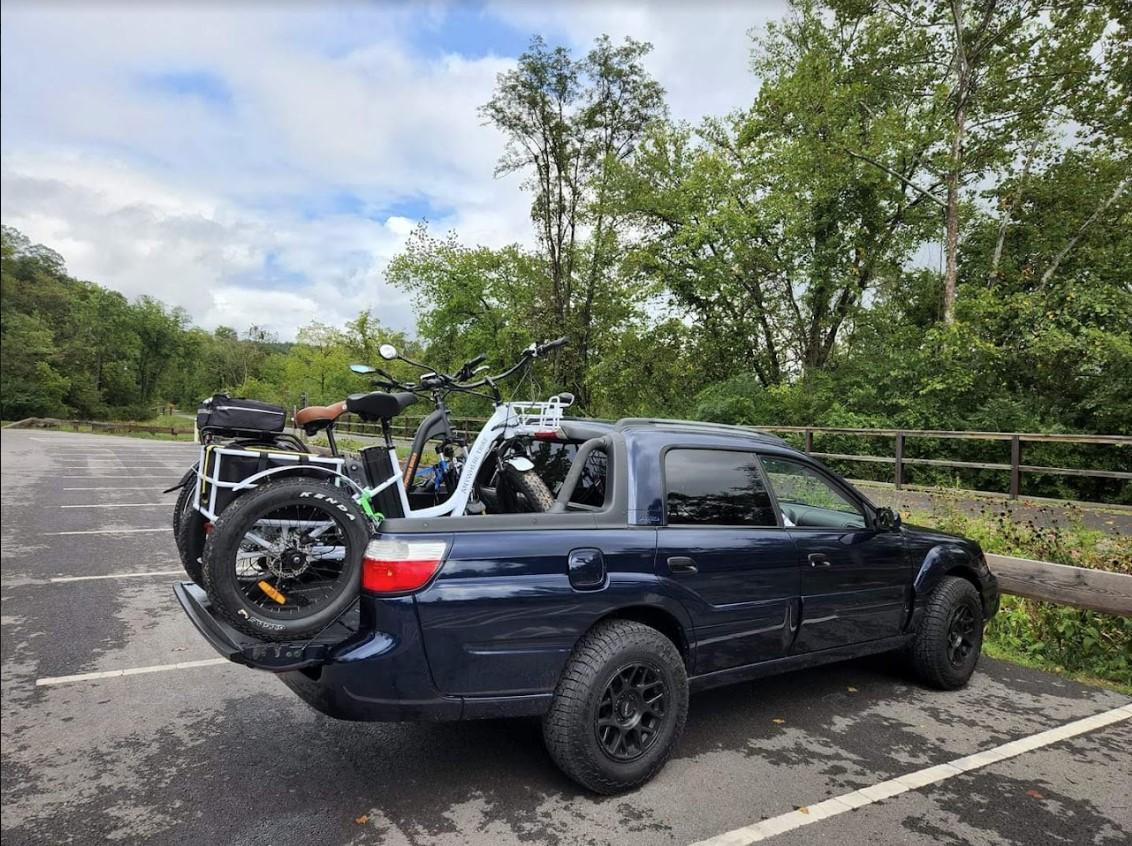 Why are they so expensive?
If you have looked around at different e-bike options I am sure you have noticed that they can cost a pretty penny! But there is a reason why they cost so much. A huge part of the cost is the battery. Lithium-ion batteries use minerals such as lithium and cobalt that are expensive and limited. The battery for your e-bike is often ¼, or more, of the total cost of your bike!
Apart from the battery, there are a number of other components that are not cheap either. The motor and controller are two other components that are complex and important that you don't skimp out on. Since e-bikes have all these other components it makes them a much heavier bike. E-bikes can be anywhere from 50-100lbs, and with all that extra weight, you need to be able to stop effectively and safely, so you want to make sure you have quality brakes, tires, and any components of the drivetrain.
How can I secure my bike when I go into the store?
E-bikes are a large purchase so you want to make sure it is secure if you leave it parked outside while you run your errands. The first thing we recommend doing if you are going to be away from your e-bike is to use a bike lock. They are fairly inexpensive and can be totally worth it if it saves your e-bike from being stolen.
The next safety precaution you can take is with your battery. Since your battery is easily removable, you can take it with you while you run your errands.
The other option has to do with a feature on the battery itself. There is a key position on the battery that works like a deadbolt on a door. You will want to make sure to lock the battery like this anytime you will be away from it. With this, no one is able to use or remove the battery without your key, so your bike would be basically useless.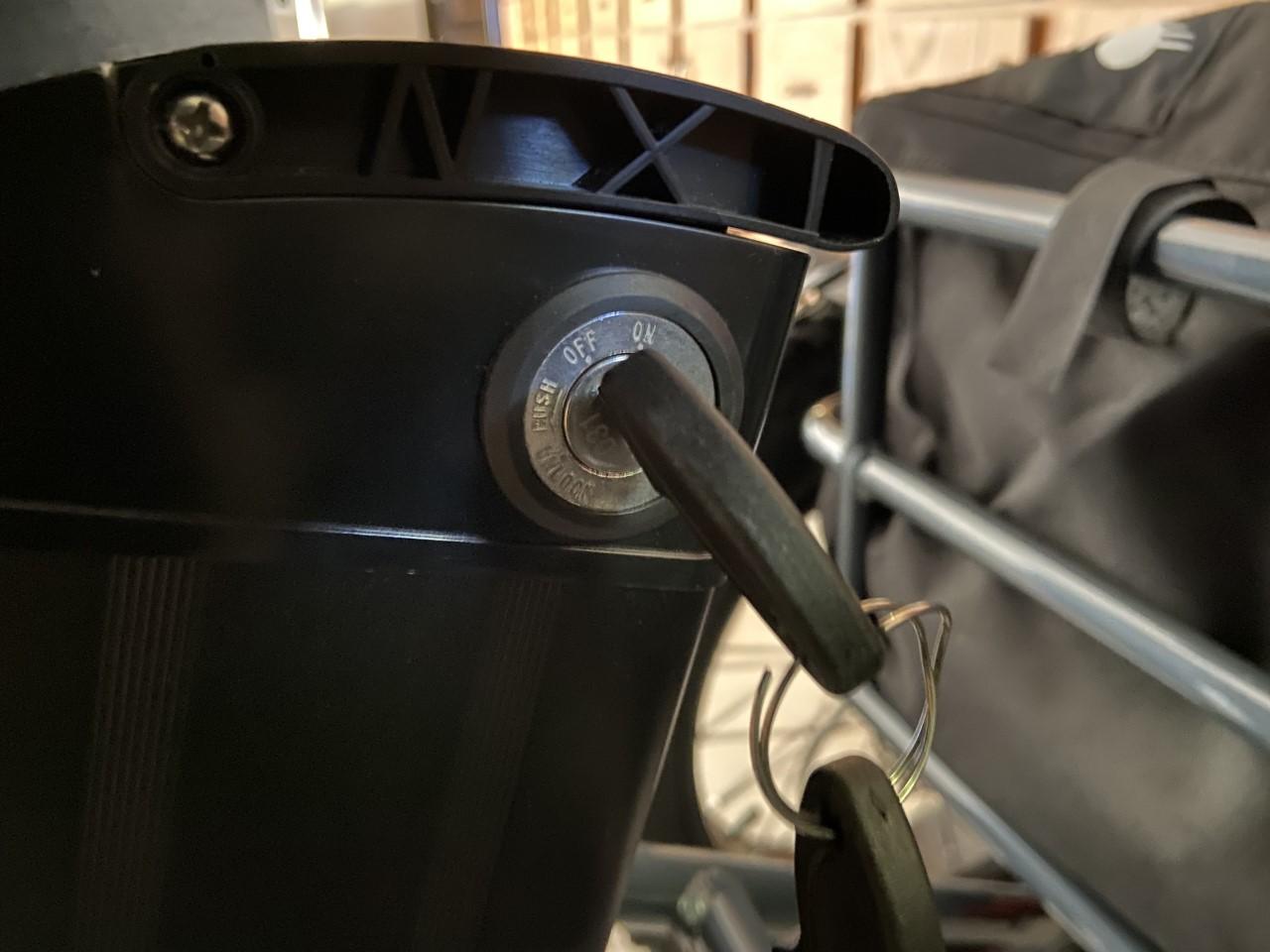 The image above on the right shows the different positions you can put your key in the battery.
How do they work?
If you have never ridden an e-bike before you may not understand how they work or how you would use them. If you are interested in learning about the basics on how to use an e-bike click here to read a blog that will break it all down for you.
Can I ride it in the rain?
E-bikes are built to be water-resistant, so yes, you can ride in the rain, but we do not recommend riding in a downpour. Riding in the pouring rain doesn't sound too fun anyways!
Basically, as long as the controller (located under the battery) doesn't get wet, your e-bike should be okay. If you are riding in the rain you will also want to watch out for your LCD screen. It is also water-resistant but you want to make sure water does not get behind the screen and damage it. You can prevent this by wrapping a plastic bag, or something similar, over it.
If your bike is out in the elements, you do need to cover it with a trike cover, or a tarp will work as well.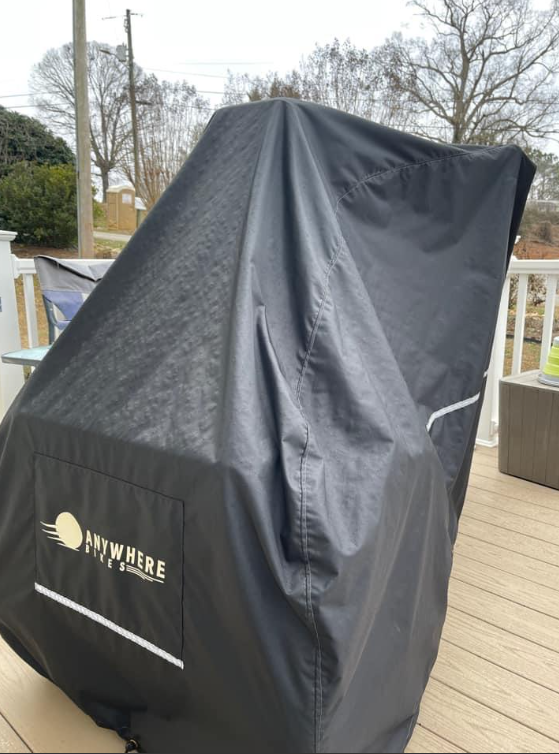 How will I get my bike repaired or serviced?
Many e-bikes can be purchased online so there may not be a company store you can take it to if you have any issues, but that doesn't mean e-bike companies won't make sure you are taken care of. Many e-bike companies still have nationwide coverage for any kind of service or repairs you may need done. A lot of these technicians are mobile and will come directly out to you home to work on your bike. It is important to make sure you can get repairs and service before you purchase your e-bike.
Who rides e-bikes?
Anyone and everyone! There is such a wide range of options to choose from if you are looking for an e-bike. You can even customize many to better meet your needs.
They can be perfect for a commuter in a big city, an RV traveler, a senior who doesn't have the balance they use to, a mom who wants to keep up with her kids, or someone who wants to use it to get around their farm property.
No matter who you are, there is an e-bike out there for you.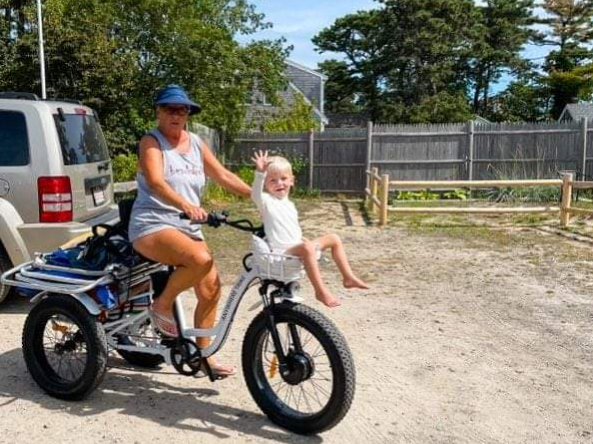 Conclusion
You may still have questions about e-bikes in general or a specific Anywhere Bikes model. If so, make sure to leave your question in the comments below so we can get that answered for you.